Parishioners attending the Midday Mass were shocked this morning (Sunday, 17th. February) to learn that the Cross containing a Relic of Saint Patrick has gone missing, presumed stolen.
The brass cross, in a locked steel cabinet, and imbedded in a pillar to the right hand side of the main altar, held a bone fragment believed to be that of Saint Patrick.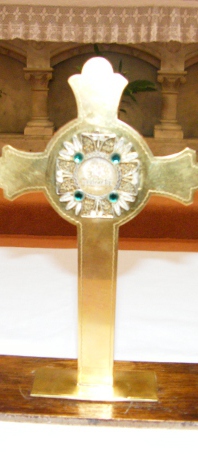 The cross had been donated to Saint Patrick's Church by the late Leslie Bean De Barra, wife of General Tom Barry and has been in this position for at least 40 years.
The Priests and Parishioners are praying that this Cross be returned to Saint Patrick's Church soon, and in this regard any information regarding the Cross can be passed on by simply phoning the Parish Office at 021 4518191 or the Duty Telephone at 087 8252284